The Golden Age of Arbitration: Dispute Resolution Under Elizabeth I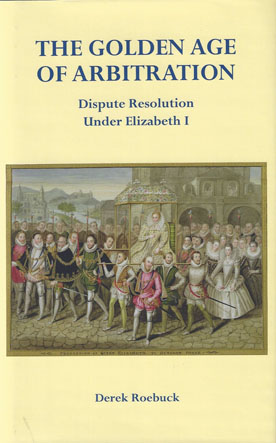 ISBN13: 9780957215306
Published: January 2015
Publisher: Holo Books
Country of Publication: UK
Format: Hardback
Price: £40.00

In Elizabethan England arbitration was everywhere, the ordinary way the parties chose to settle a dispute they could not end themselves. Each party chose one or more arbitrators and together they would try to mediate a settlement. If the parties could not be reconciled, the arbitrators would at least try to get them to agree on those to whom they would grant the power to decide for them. They would usually include the failed mediators.
The word the Elizabethans used for their processes of dispute resolution was arbitrement, which included every procedure, every stratagem, at all stages once the parties had referred their dispute to others. Arbitration is now distinctly defined, specifically in contrast to mediation, but those who lived then called the whole thing arbitration and those who did it arbitrators, even when they were only mediating.
Arbitrations were usually arranged atter the disspute had arisen but there was nothing new or strange about arbitration clauses to deal with disputes to arise in the future. They were included in all sorts of written agreements from treaties and insurance policies to partnership agreements. The archives of documents for these years relating to arbitration are voluminous, not only in the Acts ef the Privy Council but in the National Archives and local collections.
Because of the richness of its archives, Elizabeth I's government arbitration scheme dominates this book. But the background to dispute resolution of all kinds throughout her reign was private arbitration, arranged by the parties and the chosen arbitrators with no government intervention.
Part One describes how private and public arbitration worked. Both began with attempts to mediate, 'to bring the parties to concord' and, if that was unsuccessful, to make an award on the merits, according to equity, conscience or reason. Part Two is devoted to the Privy Council's scheme, its processes and its relations with other courts. Its jurisdiction was comprehensive then, overriding all other courts.
Part Three deals with procedure. Part Four describes those who were chosen to arbitrate, in both private and public arbitrations, Cecil and Walsingham, Raleigh and Hawkins, Coke and Bacon, and the parties who resorted to them, Bess of Hardwick and her husband Shrewsbury, with separate chapters examining the roles of women and the Queen's own involvement. Part Five shows the wide range of subject matter of the disputes: local and foreign business, with many disputes between foreign merchants and some submitted to their arbitration; title to land and family matters; and even disorder and crime.
Part Six presents what law there was governing arbitration, as the courts developed it over the 45 years of the reign, with little impact on practice. Part Seven draws conclusions, in particular from the Queen's concern for the poor: 'If the phrases "legal aid" and even "welfare state" had been coined by then, it may be unwise to assume that Elizabeth I's Government would have used them as terms of abuse.'