Is Law for You?: Deciding If You Want to Study Law 2nd ed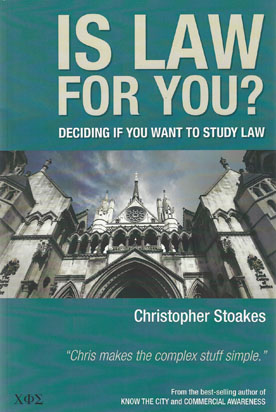 ISBN13: 9780957494626
Published: May 2013
Publisher: Christopher Stoakes Ltd
Country of Publication: UK
Format: Paperback
Price: £12.95

Usually despatched in 1 to 3 weeks.
You are thinking of studying law or becoming a lawyer. But what is law really like? How does it feel, being a lawyer, and what do lawyers do all day? Be warned. The law may not be what you expect.
If you think it's a well-ordered city with wide, straight boulevards, beautiful public buildings and graceful office blocks that have developed over the centuries, you are in for a shock. It's more like a shanty town with shifting streets, darkened alleyways, dead-ends, cul-de-sacs, lanes that shoot off in opposite directions and some thoroughfares :hat can disappear almost overnight. In short it can appear a bewildering maze. What you need is a map.
This book provides that map. It offers a unique insight into the law and its practice. It covers the key topics in a new and engrossing way that will help you decide whether the law really is for you.