The Cambridge Handbook of Public-Private Partnerships, Intellectual Property Governance, and Sustainable Development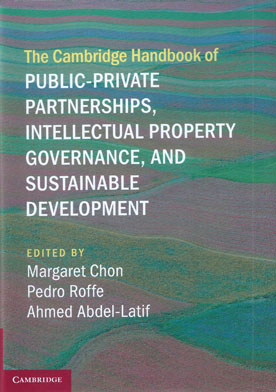 ISBN13: 9781107175839
Published: November 2018
Publisher: Cambridge University Press
Country of Publication: UK
Format: Hardback
Price: £120.00

Public-private partnerships (PPPs) play an increasingly prominent role in addressing global development challenges. United Nations agencies and other organizations are relying on PPPs to improve global health, facilitate access to scientific information, and encourage the diffusion of climate change technologies.
For this reason, the 2030 Agenda for Sustainable Development highlights their centrality in the implementation of the Sustainable Development Goals (SDGs). At the same time, the intellectual property dimensions and implications of these efforts remain under-examined.
Through selective case studies, this illuminating work contributes to a better understanding of the relationships between PPPs and intellectual property considered within a global knowledge governance framework, including innovation, capacity-building, technological learning, and diffusion. Linking the governance of intellectual property to the SDGs, this is the first book to chart the activities of PPPs at this important nexus.
Explores the diversity of existing partnerships at the interface of intellectual property and sustainable development within a global knowledge governance framework
Focuses on the nexus between global knowledge governance and representative public-private partnerships (PPPs) involved in sustainable development, including health, education, and climate change
Features detailed analyses of current and best practices of PPPs with regard to innovation, access, and other policy goals of intellectual property