Inducing Compliance with International Humanitarian Law: Lessons from the African Great Lakes Region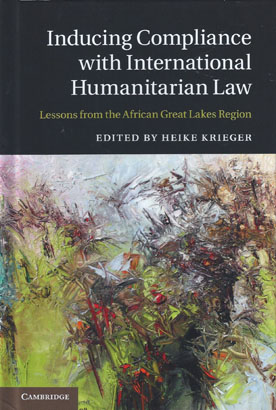 ISBN13: 9781107499560
Published: December 2018
Publisher: Cambridge University Press
Country of Publication: UK
Format: Paperback (Hardback in 2015)
Price: £29.99

The number of armed conflicts featuring extreme violence against the civilian population in areas with no or little State authority has risen significantly since the early 1990s. This phenomenon has been particularly prevalent in the African Great Lakes Region.
This collection of essays evaluates, from an interdisciplinary perspective, the various traditional and alternative instruments for inducing compliance with international humanitarian law. In particular, it explores the potential of persuasion, as well as hierarchical means such as criminal justice on the international and domestic level or quasi-judicial mechanisms by armed groups.
Furthermore, it evaluates the role and potential of human rights bodies, peacekeeping missions and the UN Security Council's special compliance system for children and armed conflicts. It also considers how Common Article 1 to the Geneva Conventions and the law of State responsibility could both potentially increase compliance with international humanitarian law.