Contract Law Pedagogy in the 21st Century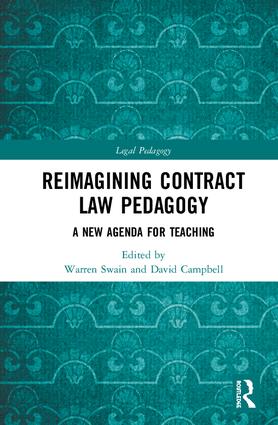 ISBN13: 9781138036925
Published: February 2019
Publisher: Routledge
Country of Publication: UK
Format: Hardback
Price: £115.00

Despatched in 4 to 6 days.
Contract law remains a compulsory subject of study throughout the common law world and is usually taught early on in the law degree. This means that, for many students, it also serves as an introduction to the study of private law and the accompanying methodology. Despite this, the pedagogy of contract law has changed comparatively little since it first became a serious subject of study in universities during the late nineteenth century. Contract Law Pedagogy in the 21st Century examines why the existing contract teaching pedagogy has remained in place for so long and argues that an overhaul of the way in which contract law is taught is long overdue.
Including contributions from a range of jurisdictions and types of university, this book provides a survey of contract law courses across the common law world, reviewing current practice and expressing concern that the emphasis the current approach places on some features of contract doctrine fails to reflect reality. Engaging with the major criticism of the standard contract course, which is that it is too narrow and rarely engages with ordinary life, or at least ordinary contracts, this book argues that students are left without vital knowledge. This collection is designed to be a platform for sharing innovative teaching experiences, whilst also building a new approach that addresses such issues.
This book will have international appeal and will be of interest to academics, researchers and postgraduates in the fields of law and education. It should also be essential reading for teachers of contract law, as well as governmental and legal profession policymakers.