Africa and the Responsibility to Protect: Article 4(h) of the African Union Constitutive Act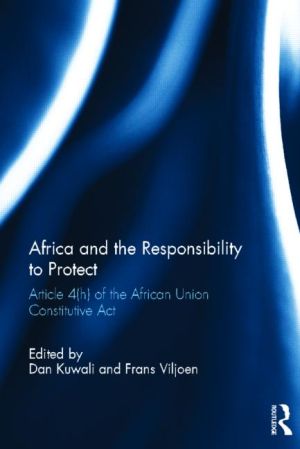 ISBN13: 9781138659186
Published: March 2016
Publisher: Routledge
Country of Publication: UK
Format: Paperback (Hardback in 2013)
Price: £34.99

Despatched in 4 to 6 days.
Situations of serious or massive violations of human rights are no longer purely of domestic concern, and sovereignty can no longer be an absolute shield for repressive governments in such circumstances. Based on this realization, the international community has recognized a responsibility to protect individuals in states where their governments are unable or unwilling to provide protection against the most serious violations. However, only one intergovernmental organization, the African Union (AU), has explicitly made this principle part of its foundational text by concretizing the responsibility to protect in Article 4(h) of its Constitutive Act. So far although there have been cases of Article 4(h)-type interventions in Africa, the AU Assembly has not invoked this Article explicitly.
This book brings together experts in the field to explore the potential application of Article 4(h), and the complexities that may explain its non-invocation so far. Although the Article is noble in purpose, its implementation faces several legal and policy challenges given that the use of force penetrates the principles of state sovereignty and non-intervention - the very cornerstones upon which the AU is founded. This book considers these issues, as well as the need to reconcile Article 4(h) with the provisions of the Charter of the United Nations, especially where the AU exercises military intervention to protect populations at risk of mass atrocities. Drawing from the insights of law, political science, diplomacy and military strategy, the book offers a unique combination of multi-disciplinary expertise that harnesses the views of a diverse group of authors, focused on the legal, policy procedural and practical insights on African and the responsibility to protect.