The Limits of State Power and Private Rights: Exploring Child Protection and Safeguarding Referrals and Assessments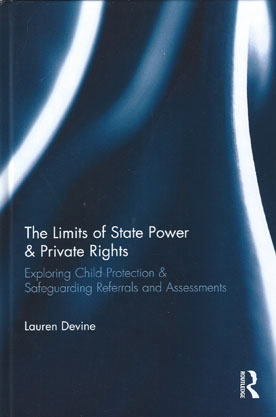 ISBN13: 9781138782266
Published: February 2017
Publisher: Routledge
Country of Publication: UK
Format: Hardback
Price: £120.00

Despatched in 4 to 6 days.
The Limits of State Power and Private Rights: Exploring Child Protection and Safeguarding Referrals and Assessments examines in detail the UK child protection and safeguarding system, exploring its theoretical and legal basis and implications in modern society.
The system of child protection and safeguarding derives from a couple of short, statutory provisions in the Children Act 1989 and the Children Act 2004. These provisions have created a multi-billion pound industry in the UK implemented by local authorities, private companies and the legal profession. Other systems elsewhere in the world have similar structures, including the US, Australia and most European countries.
The main objective of this book is to tackle the difficult issue of the balance between the rights of the individual, and the power of the state to interfere with those rights. From this approach it is possible to critique several aspects of the system and consider the key issues of concern. For example, a system of child protection might be considered successful from a social science perspective but not from a legal or financial viewpoint.
This raises the issue of what measure should be used to evaluate the system given its multi-disciplinary implications. Filling a gap in the existing literature, the author considers different aspects of child protection literature and has brought them together, providing a text which enables the reader to gain insight into seemingly diverse aspects and effects of the enabling statutory provisions. The book will be of interest to academics, lawyers, theorists and social workers with an interest in child protection, privacy and state powers.
Announced as State Powers and Private Rights in the UK Child Protection System: Policing Parents