Secrecy, Law and Society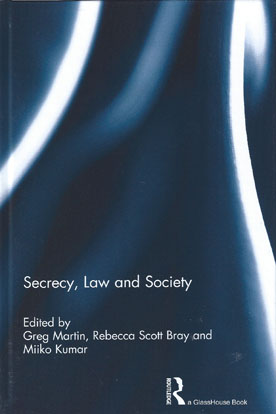 ISBN13: 9781138826854
Published: June 2015
Publisher: Routledge
Country of Publication: UK
Format: Hardback
Price: £115.00

Despatched in 3 to 5 days.
The 'culture of security' ushered in after 11 September 2001 has involved exceptional legal measures and – as exemplified by the Chelsea Manning and Edward Snowden leaks – increased recourse to secrecy on the basis of protecting public safety and national security.
Beyond this counterterrorism and national security context, however, secrecy has emerged as a key issue in a range of other institutional and cultural settings: in, for example, controversies surrounding evidence given by undercover police officers, media ethics, the exposure of historical child sexual abuse scandals, and so on.
Across such diverse situations, secrecy impacts upon a range of legal issues, including, the separation of powers, due process, procedural fairness and human rights. And, more broadly, questions concerning secrecy touch on the credibility of both public and private institutions. Accordingly, this edited collection constitutes both a timely and critical intervention into secrecy debates, as they stretch across the various fields of law, politics and social inquiry.