Williams on Wills 9th ed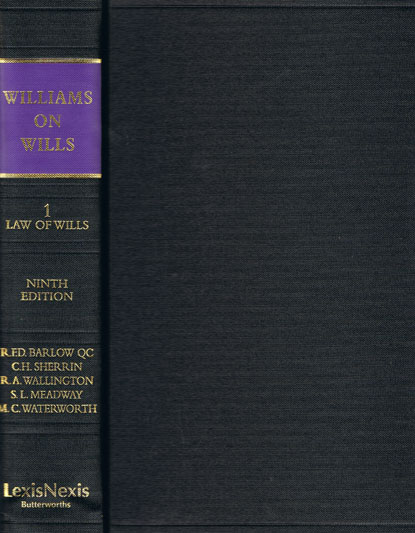 ISBN13: 9781405725835
Published: December 2013
Publisher: LexisNexis Butterworths
Country of Publication: UK
Format: Hardback & CD-ROM, 2 Volumes & Supplement
Price: £144.15 + £55.85 VAT
(Second Hand)

This book covers every aspect of the modern law of wills and is considered to be the definitive practitioner textbook on this area of the law.
The new edition contains an extensive collection of precedents, both of complete wills and of separate clauses used in wills. It provides a selection of relevant statutes and includes new sections on post-death instruments and the treatment of foreign property.
Williams on Wills Ninth edition is fully updated to cover all the changes in legislation since the previous edition. In-depth drafting notes to the precedents assist practitioners in creating the most suitable wills for their clients.
The 4th Supplement was published in December 2013
The 3rd Supplement was published in December 2012
The 2nd Supplement was published in August 2010
The 1st Supplement was published in July 2009
The Main Work was published in February 2008