Butterworth's In-House Lawyer's Handbook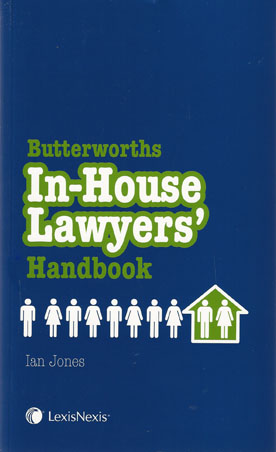 ISBN13: 9781405755504
Published: November 2012
Publisher: LexisNexis Butterworths
Country of Publication: UK
Format: Paperback
Price: £99.99

Butterworths In-House Lawyer's Handbook is the first and only text to bring together all the practical guidance, precedents, expert commentary and key source material for the in-house law department.
In-house lawyers in all types of institutions will benefit from the insights Ian Jones's commentary provides. The book covers all the key planks of the internal legal advisors' role, from managing a legal team to handling the procurement process.
In today's world, In-house counsel in businesses and the public sector are expected to have a thorough understanding of the aims and activities of their institution, and relate that understanding in the advice they give their employer.
Aside from this requirement, the in-house lawyer needs a high level understanding of a range of legal issues in multiple jurisdictions and know how to access that information quickly. This book assists that by providing key precedents and accessible information on a range of the most common issues in core jurisdictions.
Butterworths In-House Lawyer also:
Helps in-house legal teams demonstrate their value to the business and especially to the FD
Contains a user-friendly reference on all matters within the in-house lawyer's remit
A Comprehensive best practice guidance on the role of the in-house lawyer
Useful precedents
Everything you really need to know about being an in-house lawyer
Is accessible and portable
Teaches you how to make decisions about the legal team and outsourcing/in-sourcing based on value to the business
Collates useful blank letter sources, making it a one-stop shop
Is of use particularly to in-house lawyers newly managing teams
Benefits solicitors in private practice by providing unique insights into the world of clients