Cases That Changed Our Lives: Volume 2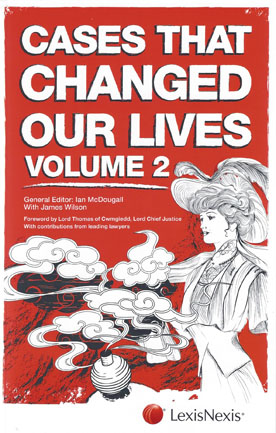 ISBN13: 9781405791458
Published: September 2014
Publisher: LexisNexis Butterworths
Country of Publication: UK
Format: Paperback
Price: £20.00

Following the success of Volume 1 in 2010, Cases That Changed Our Lives: Volume 2 presents a brand new selection of cases from around the world that have changed or created the rules and procedures which govern our lives and which we abide by.
From the Trial of Charles I, to more recent high profile equality cases, the book covers a wide range of groundbreaking cases that have had an enduring impact on present day law. It sets out the facts of each case and examines the implications for that area of law, looks at the people involved and assesses the case's lasting legacy.
With contributions from leading practitioners in their fields, the book gives a fascinating and invaluable insight into the importance of case law and the impact it has on our lives and on our world.
£1 for every copy of the book sold will be donated to
STOP THE TRAFFIK
a global movement of activists around the world who passionately give their time and energy to build resilient communities and prevent human trafficking.