Regulating Multinationals in Developing Countries: A Conceptual and Legal Framework for Corporate Social Responsibility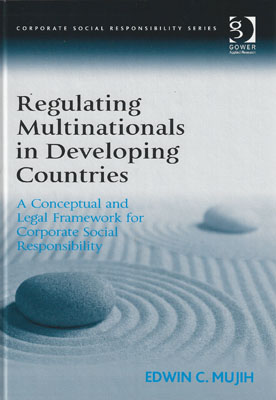 ISBN13: 9781409444633
Published: August 2012
Publisher: Gower Publishing Limited
Country of Publication: UK
Format: Hardback
Price: £110.00

Despatched in 4 to 6 days.
In Regulating Multinationals in the Developing World, Edwin Mujih explores the difficulties associated with regulating multinational companies operating in developing countries, with a particular focus on extractive industries.
The author highlights the need to establish an international legally binding framework to ensure that they operate in a socially responsible manner to protect local communities and the environment. Edwin Mujih's analysis reveals that the existing mechanisms for controlling the behaviour of huge multinational entities are of normative force only, that these are particularly inadequate, and that the notion of corporate social responsibility is only meaningful where behaviour can be legally regulated.
The book features a study of the Chad and Cameroon Oil and pipeline project, which highlights the problems arising in countries that have neither the capacity nor the will to effectively regulate those operating within their borders.
The author has evaluated compliance by the parties with their social and environmental obligations. He has found that, despite controversy surrounding inadequate regulation of this project in its incipient stages, the system that was put in place following huge opposition from the affected communities and from NGOs is worthy of attention and could stand as a model for similar projects elsewhere.
This first title in "Gower's Corporate Responsibility Series" to approach CSR from a legal perspective provides insight not just into the complexity surrounding efforts to regulate multinationals operating in countries with weak regulatory regimes, but also into the fundamental nature of multinational corporations and the debate about different notions of CSR itself.