Medical Law: Text, Cases and Materials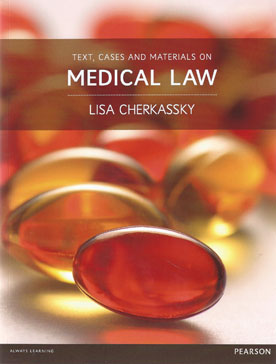 ISBN13: 9781447901204
Published: October 2014
Publisher: Pearson Education Ltd
Country of Publication: UK
Format: Paperback
Price: £40.99

Text, Cases and Materials on Medical Law combines detailed commentary and analysis of the law with excerpts from a range of sources, both legal and non-legal, to help set the law in context and deepen your knowledge of this contentious and highly emotive area of law.
The book begins with an examination of the main ethical and moral principles that guide medical practice and, to some degree, medical law. It then explores the operation of the NHS, the arena in which the majority of medical law cases are played out. It then presents the key areas in which the law and medical practice intertwine – from issues of negligence and consent, through to the beginning of life, the end of life, and much that falls between.
Written in an accessible style, and using a range of learning features to help your studies, Text, Cases and Materials on Medical Law is the ideal companion for anyone taking an undergraduate module in this area.