The Quest for Constitutionalism: South Africa Since 1994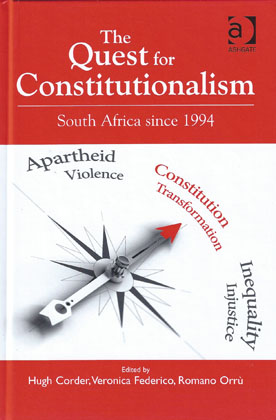 ISBN13: 9781472416315
Published: November 2014
Publisher: Routledge
Country of Publication: UK
Format: Hardback
Price: £115.00

This volume provides a timely assessment on the progress made towards the achievement of a constitutional democracy in South Africa. The chapters collectively present an in-depth analysis of the development of the legal system and of the implications of the Constitution for the social configuration of power. To what extent has the vision of constitutionalism contained in the Constitution been realised?
Primarily concerned with the impact of laws and the salience of their existence and enforcement for South Africans, the work highlights the importance of placing the constitutional regime in its historical, cultural, social, economic and political context.
The book further recognizes the importance of the South African constitutional provisions for transnational or globalised constitutionalism more broadly. It contains contributions from South African scholars, as well as European authors, bringing in new analytical angles and adding a specific comparative dimension.
Through the prism of South Africa, the authors discuss the innovative character of constitutional and legal provisions in terms of both constitution-making and law-making processes and their contents.
This book provides analysis that will be relevant to scholars, students and practitioners, specifically those interested in International Relations, Law, Sociology of Law, and African Studies, as well as socio-political comparative studies.