Parliament's Secret War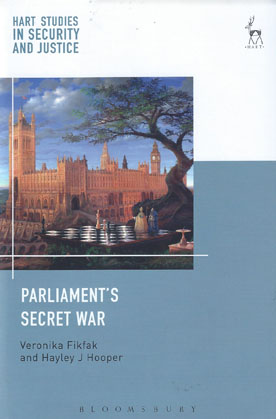 ISBN13: 9781509902873
Published: February 2018
Publisher: Hart Publishing
Country of Publication: UK
Format: Hardback
Price: £70.00

Since the Iraq War in 2003 and the Conservative-Liberal Democrat Coalition Government's failure to command the support of the House of Commons for military intervention in Syria in 2013 there has been increased interest in how Parliament is involved in decisions to go to war.
For much of the media and civil society the House of Commons' involvement represents a wresting of power from the Executive by a more legitimate, democratic institution. Moreover, it has also been suggested that the consultation of the House of Commons before the commencement of hostilities represents an emerging constitutional convention.
This monograph offers a critical inquiry into the current arrangements around the operation of the war prerogative. In doing so, it offers the first in-depth conceptual analysis of the nature of the British Parliament's role in respect of the war prerogative.
The book is the first rigorous attempt to classify, explain, and evaluate parliamentary engagement with war powers in the twentieth and twenty-first centuries.
It reveals that the constitutional functions of Parliament are being frustrated by lack of access to relevant information, a practice which is usually justified by the Executive on the basis that providing relevant materials in open parliamentary sessions would be damaging to national security or international relations.