Contract Law: An Introduction to the English Law of Contract for the Civil Lawyer 3rd ed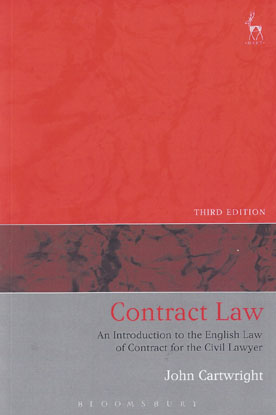 ISBN13: 9781509902910
Published: April 2016
Publisher: Hart Publishing
Country of Publication: UK
Format: Paperback
Price: £27.99

This book gives an introduction to the English law of contract. In this new and fully updated edition the book retains the primary focus of the first edition: it is designed to introduce the lawyer trained in a civil law jurisdiction to the method of reasoning in the common law, and in particular to the English law of contract.
It is written for the lawyer-whether student or practitioner-from another jurisdiction who already has an understanding of a (different) law of contract, but who wishes to discover the way in which an English lawyer views a contract.
However, setting English contract law generally in the context of other European and international approaches, the book forms an introductory text for the English student, who can see not only how English contract law works but also get a glimpse of different ways of thinking about some of the fundamental rules of contract law.
After a general introduction to the common law system-how a common lawyer reasons and finds the law-the book explains the principles of the law of contract in English law covering all the aspects of a contract from its formation to the remedies available for breach, whilst directing attention in particular to those areas where the approach of English law is in marked contrast to that taken in many civil law systems.