Criminal Appeals Handbook 2nd ed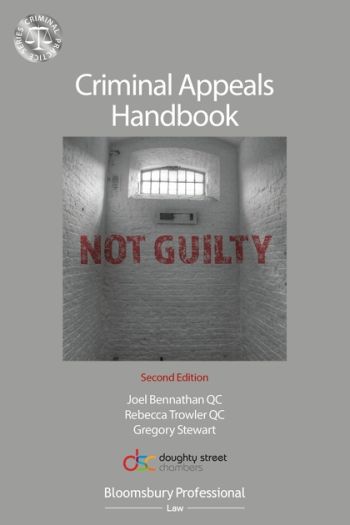 ISBN13: 9781526508850
To be Published: September 2019
Publisher: Bloomsbury Professional
Country of Publication: UK
Format: Paperback
Price: £75.00

The process of appealing to the criminal court is an area of law where practitioners and the laypeople are in need of practical guidance. Criminal Appeals Handbook provides practical assistance to legal representatives of clients who are seeking to challenge convictions or sentences in the Court of Appeal and beyond. This text is also of interest to those convicted and their families, not by encouraging them to conduct appeals themselves, given how complex the process can be, but in assisting them to understand the process, their rights and their options.
The change that the criminal profession is undergoing has seen an increased need for a work of this nature. Firstly, because there are an increasingly large number of solicitor advocates who, unlike chambers-based counsel, have not experienced the Court of Appeal as part of their training. Secondly, with the declining availability of quality representation there is an increasing number of prisoners who wish to challenge their convictions and seek to understand the appeal process themselves. The interest of those convicted of a serious criminal offence in exploring how to appeal will only increase in the next few years as we go from a highly effective system of trial at first instance to one that is marked by underfunding and poor quality advocacy, and lack of proper pre-trial preparation.
In order to maintain its stance of practical assistance, this new 2nd edition continues to take each topic in the order in which it arises in the appeal process. It begins with how to obtain advice including funding for advice and assistance legal aid, potential grounds of appeal, lodging, etc. following the process through to the conclusion of the case in the Court of Appeal and beyond with a short section on Appeal to the Supreme Court followed by reference to the Criminal Case Review Commission, then finally: international remedies (ECtHR and UNHRC).
The new edition will cover the revised Court of Appeal guide to the procedures that must be followed on appeal. Almost all sentence appeals now relate to appeals that address sentencing guidelines from the Sentencing Council and the Criminal Cases Review Commission have changed the practicality of how they work. Along with clear guidance on these changes the new edition will consider trends that are developing in this area including:
The duty on fresh representatives to consult trial lawyers
Court of Appeal guidance on what a "substantial mis-justice" means.