The Origins of Western Law from Athens to the Code Napoleon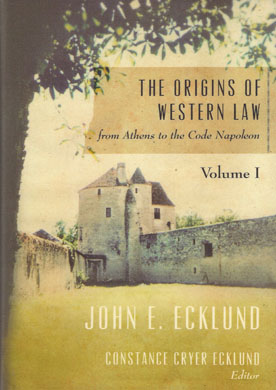 ISBN13: 9781616193713
Published: February 2015
Publisher: Talbot Publishing
Country of Publication: USA
Format: Hardback, 2 Volumes
Price: £152.00

The Origins of Western Law from Athens to the Code Napoleon charts the horizon of Western legal origins.
Eternal Platonic truths versus the Sophists of individual preferences, medieval Realists against Nominalists, natural lawyers of the 17th and later centuries, Montesquieu and other Enlightenment thinkers fighting through principles and personhood. These and many more figures and ideas come alive in this comprehensive survey of the antecedents of our modern legal system.
"This is a magisterial book written by a magisterial man, John Ecklund, and his wife and editor Dr. Constance Cryer Ecklund. The subject, scope, and depth of the book seem to flow naturally from the man I was privileged to know in New Haven and at Yale for decades.
On first meeting, most people would be struck by John's physical presence (he was tall), then by his civility, and then by his great intellect and thoughtfulness. He served Yale and New Haven as few others have. This excellent book is a living legacy that, I hope, will educate generations to come about the philosophical and historical antecedents of our system of law which remains one of America's greatest assets." --Senator Joseph I. Lieberman.