You Should Not: A Book for Lawyers, Old and Young, Containing the Elements of Legal Ethics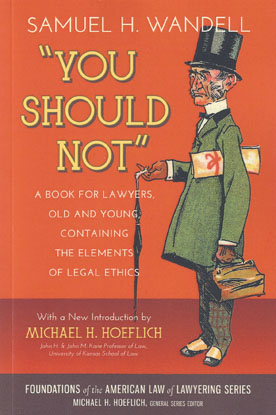 ISBN13: 9781616194604
Published: June 2014
Publisher: The Lawbook Exchange Ltd
Country of Publication: USA
Format: Paperback
Price: £23.99

You Should Not is more than a period piece. It is a document which reflects both the origins of many of our modern ideas about legal ethics and professional responsibility as well as the changing notions of proper behavior that surfaced in the last quarter of the nineteenth century.
It is a book that witnesses the insecurity felt by the elite members of a changing legal profession, changing demographically, culturally, ethnically, and economically. Above all, it is a document which shows how the American legal profession's quest for dignity and respectability continued to be a major theme of juristic writing throughout the nineteenth century.
SAMUEL H. WANDELL [1863-1943] was a New York lawyer and judge. He was the author of numerous literary and legal works, including The Law Relating to the Disposition of Decedent's Real Estate (1889), The Law of Inns, Hotels, and Boarding Houses (1888), The Law of the Theatre (1891) and The Law in Relation to Public Contract Liens (1932). With Meade Minnigerode, he was the author of the two volume biography, Aaron Burr (1925).