Banking and Capital Markets Companion 6th ed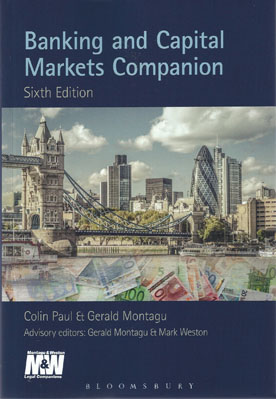 ISBN13: 9781780434926
Published: October 2014
Publisher: Bloomsbury Professional
Country of Publication: UK
Format: Paperback
Price: £55.00

Banking and Capital Markets Companion, 6th edition provides a clear and concise examination of the law, practice and procedure of fund raising in the banking and capital markets.
It covers loans, debt securities, derivatives and security for debt using graphics, flowcharts, bullets and summaries to present the subject in an analytical format that is easy to read and recall. It is based on industry standard materials of the Loan Market Association, the International Capital Markets Association, the International Swaps and Derivatives Association and the British Bankers Association and the new edition has been comprehensively revised and updated to take account of new legislation, regulation and case law.
There has been considerable change in this area of law since the last edition published. The book is updated to reflect the LIBOR (London Interbank Offered Rate) practice and sovereign debt short selling restrictions and significant case law on Marshalling and ISDA Master Agreements. The tax section is updated to take account of the 2011, 2012, 2013 and 2014 Finance Acts.
Legislation and case law includes:-
Financial Services Act 2012 setting up the new UK financial structure;
2011, 2012, 2013 and 2014 Finance Acts;
Capital Requirement Directives 3 and 4;
Regulation on derivative market infrastructure (EMIR);
Short Selling Regulation;
Amendments of Prospectus Directive, Financial Collateral Arrangements, Credit agencies regulations, regulation of restrictions on selling of securities - resulting in UK orders amending domestic law