Keane on Company Law 5th ed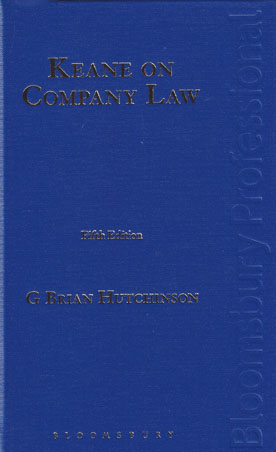 ISBN13: 9781780435428
Published: November 2016
Publisher: Bloomsbury Professional (Ireland)
Country of Publication: UK
Format: Hardback
Price: £150.00

Keane on Company Law, 5th edition covers the Irish Companies Bill 2012 (due to be enacted in 2015) and is essential reading for students, solicitors and barristers alike.
The new Irish legislation introduces a new company law code. Under the proposed new legislation, the default company type – the new private company limited by shares (cls) will be created. Such a company will only be required to have a minimum of one director, as opposed to two under the current law.
The cls will also be permitted to hold its AGM by written procedure, rather than being compelled to gather all of the members in the same room at the same time once a year. The Bill also introduces the new concept of the Summary Approval Procedure, which will allow companies to undertake certain transactions which previously were either prohibited or required Court approval, by the new method of a special resolution combined with an appropriate declaration by the directors, subject to safeguards to prevent improper use.
All these changes to Irish company legislation are covered in a practical and user-friendly structure.