How to Master Commercial Mediation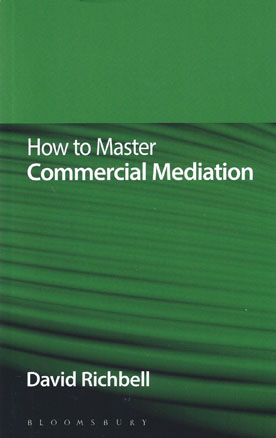 ISBN13: 9781780436821
Published: December 2014
Publisher: Bloomsbury Professional
Country of Publication: UK
Format: Paperback & CD-ROM
Price: £80.00 + £8.00 VAT - Reprinting

How to Master Commercial Mediation is for all commercial mediators, whether they are just starting out or are fully trained. Split in to three distinct parts: Part 1 covers all the general background, essential skills and processes of effective commercial mediation.
Part 2 takes the basic skills and techniques to a deeper level, and introduces more sophisticated levels that can only be considered once the foundations are established; Part 3 identifies the aspirational standards of the Master Mediator - What is it that makes a good Mediator the best? How can they stay there?
Written by an experienced commercial mediator with specialist contributions from other renowned mediators How to Master Commercial Mediation is filled with expert, practical advice and tips. It also includes bullet point summaries, checklists, scripts of actual commercial mediations together with questions and answers.
With its practical approach How to Master Commercial Mediation is a must have, go-to text for anyone currently working as, or hoping to work as a commercial mediator. It provides all the tools needed so that a mediator feels 100% confident when undertaking a commercial dispute that they will be able to gain the confidence of both the parties.
This book was previously announced with the title The Mediator's Handbook