Judicial Review in Ireland 3rd ed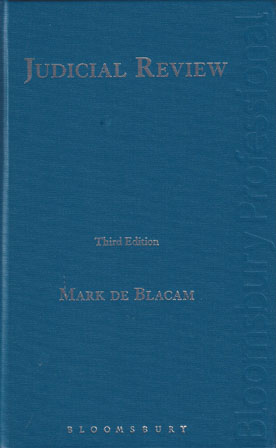 ISBN13: 9781780437026
To be Published: January 2017
Publisher: Bloomsbury Professional (Ireland)
Country of Publication: Ireland
Format: Hardback
Price: £204.00

Judicial Review, 3rd edition covers the grounds for review, defences to an application, the remedies and procedures involved and covers the Rules of the Superior Courts 2011, SI 691/2011. It is the definitive text on judicial review available in Ireland and also of important reference in the United Kingdom.
Judicial Review is divided into two main sections:
1. Conventional judicial review: Procedure governing conventional judicial review found in Order 84 of the Rules of the Superior Courts 1986 to 2011.
2. Statutory Judicial Review: Specialised statutory schemes of judicial review relating to specific areas of public decision-making which have been singled out by the Oireachtas as warranting specialised schemes because of the policy concerns involved. Statutory schemes and the procedure involved are covered by legislation specific to that area and apply to areas such as asylum, pollution control, planning and the takeover of companies.