Motive Matters! An Exploration of the Notion 'Deliberate Breach of Contract' and its Consequences for the Application of Remedies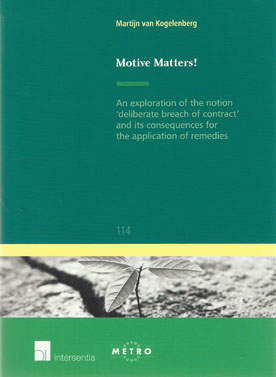 ISBN13: 9781780681634
Published: November 2013
Publisher: Intersentia Publishers
Country of Publication: UK
Format: Paperback
Price: £62.00

Usually despatched in 1 to 3 weeks.
This book argues that motives for committing breach of contract should matter in the application of remedies in contract. Deliberate breach of contract requires a different and sterner answer from the law of contract than any other breach of contract, because providing equal remedies for all breaches of contract threatens parties' trust in the law of contract.
This statement should be reflected in the law of remedies in contract. The box of remedies available to the victim of deliberate breach of contract should be designed accordingly. In general, the author argues that the victim of contractual breach should have a stronger right to enforced performance of the contract, and that he should have easier access to damages and receive a larger amount of damages if he is the victim of of deliberate breach of contract.
The arguments for the chosen approach to deliberate breach of contract are primarily drawn from comparative legal research – mainly in the form of studying court decisions, academic contributions and other common legal sources: in other words, the classic legal approach – and law and economics literature.