Legality in Europe: On the Principle nullum crimen, nulla poena sine lege in EU Law and under the ECHR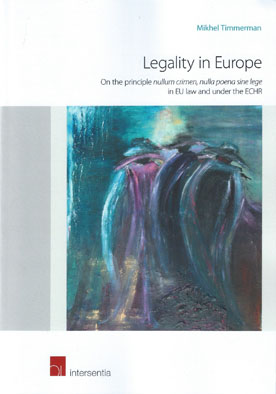 ISBN13: 9781780683041
Published: June 2018
Publisher: Intersentia Publishers
Country of Publication: UK
Format: Paperback
Price: £81.00

Through the establishment of EU criminal law, EU actors have come to influence the definition and interpretation of domestic crimes and penalties.
Both the EU legislature and the CJEU define and interpret provisions of EU law with relevance for the determination of criminal liability and the prescription of applicable penalties in the law of the Member States.
This influence on substantive criminal law raises questions about the limits to these legislative and interpretive activities, both at the EU level and at the level of the Member States. Since requirements for the definition, interpretation, and application of substantive criminal law are traditionally provided by the principle nullum crimen, nulla poena sine lege (ie the legality principle), the functioning of this principle in EU criminal law merits investigation.
To understand the role and functioning of the legality principle in EU criminal law, the author examines and compares the actual constructions of the supranational European legality principles; ie the legality principles protected under the ECHR and by EU law.
He ascertains that, while under the ECHR, the legality principle only requires the protection of a rather minimal standard of legal certainty, such a minimum standard might not be appropriate under EU law. The multilevel nature of the definition and interpretation of offences and penalties in EU criminal law, the influence of multilingualism, and the general EU standard of legal certainty provided outside the criminal sphere, make it appropriate that the EU's legality principle goes beyond the minimum ECHR standard.