The Infrastructure Finance Handbook: Principles, Practice and Experience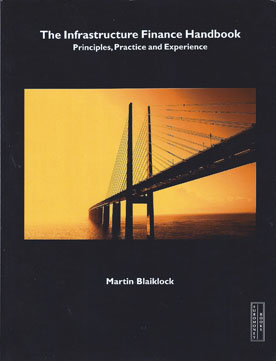 ISBN13: 9781781372821
Published: December 2014
Publisher: Euromoney Institutional Investor
Country of Publication: UK
Format: Paperback
Price: Out of print

This new text offers readers an in-depth understanding of a complex topic in a clear and concise manner. The Handbook takes the reader through the funding process for infrastructure projects from concept, via choice of the funding mechanism, funding sources, to financial close and implementation. Along the way, it describes the pitfalls to be avoided and the steps to achieving success.
Where relevant, examples of real-life project precedents are drawn upon. In addition, the Book includes chapters on the full range of infrastructure and public service (PPP) investment projects, highlighting the differences between sectors, the sector-specific risks, and the limits as to the use of private capital to support such ventures.
Who should read this book: The perfect guide for those who wish to understand how infrastructure is funded such as; Project Finance Bankers, Private Equity Investors, Sovereign Wealth Funds, Project Lawyers, Accountants, Consulting Engineers, Environmental Groups, Architects, Governments, Municipalities, Project Contractors, Capital Equipment Supplies, Universities, Business Schools and Public Services Utilities. This book is a useful tool even for those who are experienced in the field as this text should be used as an aide memoire to ensure that no details are forgotten in bringing such ventures to a successful conclusion.
Key benefits:
The book includes chapters on; what characterises "infrastructure" projects
The risks and funding structures which apply to such projects
When to use private capital for such investments
What investors and lenders seek from such deals as well as what sources of funds are available and their terms.
The project process
Sector descriptions covering applications in; transport, power and renewable energy, oil, gas and power transmission, municipal, public-private partnerships (PPP), water and waste
Why you should buy this book:
Intended to shed light, to the uninitiated, on the complex topic of infrastructure financing. This text offers readers the basic principles of project finance and public-private partnership transactions in a simple, clear yet comprehensive context. It takes the reader through the funding process from project concept, via choice of funding mechanism, to Financial Close and implementation.
Along the way, it describes the pitfalls to be avoided and the benefits of following successful precedents. Where possible, examples of real-life experiences are drawn upon. Above all, this book attempts to apply common sense to what can be complex scenarios. Unfortunately, historical practice has not always applied that virtue.