Humiliation in International Relations: A Pathology of Contemporary International Systems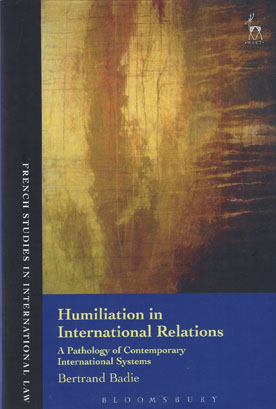 ISBN13: 9781782256199
Published: July 2017
Publisher: Hart Publishing
Country of Publication: UK
Format: Hardback
Price: £70.00

Despatched in 6 to 8 days.
Humiliation is nowadays usual in international relations (IR). Denying states' status, and stigmatising their practices or even culture are more common occurrences in modern diplomacy. After the well known and very selective European 'concert of powers', many kinds of club diplomacy were – and are still now – substituted to an attempted inclusive multilateralism. G7, G8, G20, but also P5 and many 'contact groups' are regarded as ruling institutions, which have the power to exclude and marginalise.
These humiliations are nowadays at the core of the system, revealing its limits, its lack of capacity and also pose a real threat to the power of the international order, which is being eroded by the use of humiliation. They have been generated and fuelled by an historical background, merging a colonial past, a failed decolonisation, a mistaken vision of globalisation and a very perilous post-bipolar reconstruction.
This book does take a social psychology approach, but tries to promote another approach to IR, by investigating the international system from a French sociological tradition, mainly inspired by Emile Durkheim. It is translated from Le Temps des Humiliés. Pathologie des relations internationales (Paris, Odile Jacob, 2014).