RICS Valuation: Professional Standards January 2014: Global and UK edition (The Red Book)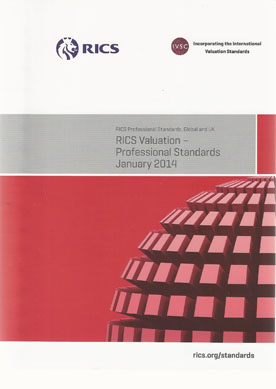 ISBN13: 9781783210251
Published: November 2013
Publisher: RICS Books
Country of Publication: UK
Format: Spiral Bound
Price: Out of print

This new 9th edition of the RICS Valuation: Professional Standards January 2014 (Red Book) will be published early in November 2013 and will become effective on 6 January 2014 replacing all previous versions of the Professional Standards. It is fully compliant with the International Valuation Standards (IVS), which have also been updated and are effective from January 2014.
The Red Book is mandatory for RICS members valuing assets - commercial, residential and other property, as well as land, plant, machinery, and other business assets. It covers all of the mechanics of valuation, including assembly, interpretation, and reporting of information, and is applicable for both RICS regulated and non-regulated firms.
What is new for RICS Valuation: Professional Standards January 2014
The layout of the Professional Standards has been reorganised so that material that previously appeared in different parts of the 2012 edition has been brought together to improve clarity and ease of use and to avoid repetition
The Professional Standards are now more in line with the IVS standards with particular alignment with IVS scope of work, framework and reporting
Updated to include new material on special assumptions relating to projected values
The global guidance notes have been updated as the RICS Global Valuation Practice Guidance – Applications (VPGA). These Applications focus on the relevance and implementation of the professional standards in specific contexts.
Since 30 April 2011, RICS Members carrying out Red Book valuations in the UK have been required to be members of the Valuer Registration Scheme (VRS). The essence of the scheme is to monitor Red Book compliance, which promotes transparency of valuation processes. VRS compliance promotes professional expertise and shows the market that you follow best practice ethics and valuation reporting.
RICS Valuation: Professional Standards is issued by the RICS Valuation Professional Group and contains mandatory rules and best practice guidance for all RICS registered valuers undertaking valuation services worldwide.