Research Handbook on Trade in Services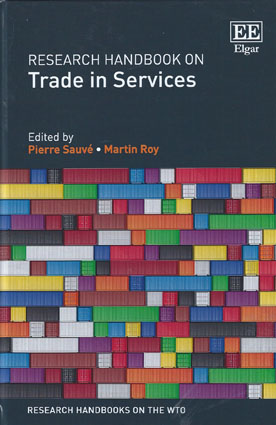 ISBN13: 9781783478057
Published: September 2016
Publisher: Edward Elgar Publishing Limited
Country of Publication: UK
Format: Hardback
Price: £180.00

This Research Handbook explores the latest frontiers in services trade by drawing on insights from empirical economics, law and global political economy.
The world's foremost experts take stock of the learning done to date in services trade, explore policy questions bedeviling analysts and direct attention to a host of issues, old and new, confronting those interested in the service economy and its rising salience in cross-border exchange.
The Research Handbook's 22 chapters shed analytical light on a subject matter whose substantive remit continues to be shaped by rapid evolutions in technology, data gathering, market structures, consumer preferences, approaches to regulation and ongoing shifts in the frontier between the market and the state. Expert contributors explore the subject through a multidisciplinary lens, offering a comprehensive overview of lessons learned over two decades of GATS jurisprudence.
The book further chronicles the rising stakes and involvement of developing countries in global services trade, notably their growing insertion in global value chains, as well as the latest advances and remaining challenges in the statistical measurement of trade in services.
Academics and experts in the policy research community will find value in this book, as will officials in governmental and international organization circles as well as representatives of service sector industry associations.