Private Client Practice: An Expert Guide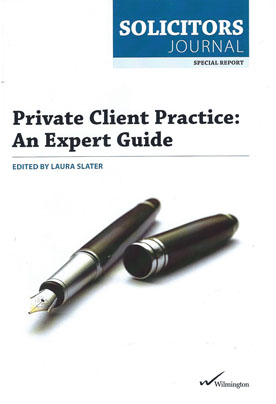 ISBN13: 9781783581474
Published: July 2014
Publisher: Ark Group
Country of Publication: UK
Format: Paperback
Price: Out of print

The legal services market is changing. In the face of new regulations and quality standards, clients are more demanding and have more choice regarding where to go, which means greater competition for you.
With over 200 new ABSs since 2007, increasing consolidation and deregulation of services such as wills, the legal services market today is a very difficult market to compete in.
As a Private Practice Practitioner you must make sure that you remain focused on your clients and the quality of service that you offer, with the potential to provide 'cradle-to-grave' services to ensure ongoing work.
This report discusses ways that private client practices and solicitors can respond to these issues facing the sector, including:
Compliance with the SRA's outcomes-focused regulation to ensure the best standard of care for clients;
Attaining a quality standard;
Being alive to opportunities to offer complimentary services to your clients – either through an additional service you will provide yourself or by referring clients to a trusted professional in another sector, e.g. an
'Thinking outside the (legal )box' to win more clients through accessing a new demographic (e.g. younger clients) or through client and professional referrals;
Learning lessons from the corporate world – introducing the 'law firm CEO'; and
roviding the best care for your clients (the best solution of all).
This report also tackles the latest regulations, legislation, and guidance relating to private client work, including:

International inheritance law: recently revised double tax agreements, court judgments;
Law Commission recommendations (on pre-nuptial contracts);
EU regulations (such as Brussels IV); and
The Care Act 2014 and its impact on solicitors' advice to clients regarding continuing health care.

This is a challenging time for private client practices; you can thrive by putting your clients first.