Law Firm KM: Driving Practice Innovation and Redefining Service Delivery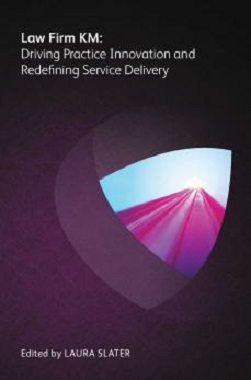 ISBN13: 9781783582297
Published: March 2016
Publisher: Ark Group
Country of Publication: UK
Format: Paperback (120 pages)
Price: £205.00

Despatched in 4 to 6 days.
How can knowledge management (KM) help your firm exceed your clients' expectations and differentiate you from your closest competitors?
This guide written by senior figures in legal KM in the US and UK will show how you can achieve this and more, drawing upon case studies from some of the most innovative firms using KM to their advantage.
KM is helping law firms adapt to an evolving legal landscape. Increasingly, firms like yours are seeing knowledge management and its potential as an "organisational capability" for leveraging the firm's experience, data and intellectual capital as a strategic resource.
Many firms have a KM function in place. But has this function evolved to become a key business unit recognised by the rest of the firm, focused on achieving business outcomes measurable goals important to a firm's overall success?
Perhaps you're finding it challenging persuading your fee earners to spare billable time to embed knowledge into your firm's systems, to the overall benefit of your firm. Or perhaps you're having trouble proving ROI on certain initiatives.
Whatever the KM challenge you're facing, Law Firm KM: Driving Practice Innovation and Redefining Service Delivery will help you solve key challenges and ensure you can take advantage of opportunities that arise after using using KM as a strategic tool. Written by some of the best minds in legal and business consulting, this guide is split into two sections:
Part One examines how KM professionals can support law firm and in-house needs, while considering some of the challenges they face.
Part Two is made up of practical guidance in the form of case studies from UK and US law firms who are trailblazing in legal KM and who have integrated vital KM principles into their overall firm strategy.
In today's evolving competitive market, firms must be looking to not only please their clients, but to find ways that go beyond the level of service they expect. More and more firms are turning to KM to help them do this. Are you?