Taxation of Employments 17th ed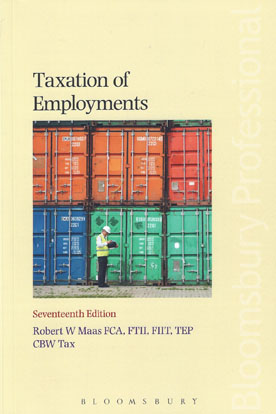 ISBN13: 9781784517052
Published: November 2016
Publisher: Bloomsbury Professional
Country of Publication: UK
Format: Paperback
Price: £150.00

Taxation of Employments, 17th Edition explains the UK tax issues that relate specifically to employers and their staff, as well as the special rules that apply to those who work overseas while remaining resident in the UK.
Advice for all scenarios:-
Exploring each and every aspect of employment taxation from the basic rules for employment income, through to the use of remuneration packages and incentive schemes, this book combines the practical tips needed on a day-to-day basis with the detailed advice required when researching specialist topics.
Since the previous edition which published in 2014, there have been many legislative changes brought about by the Finance Act 2015 and the Finance (No. 2) Act 2015, such as:
Changes to the company cars regime
The abolition of dispensations
PAYE on benefits in kind
Changes to employment intermediaries
Numerous changes to the pensions regime.
The following areas are also subject to changes proposed in the 2016 Finance Act:


Income from sporting testimonials
Further pension changes
Trivial benefits in kind
Employment intermediaries: travel and subsistence
Employee share schemes simplification
Disguised remuneration schemes
The reform of taxation of non-doms
An aide to your practice
Quick and easy to use, Taxation of Employments contains numerous worked examples which simplify complex concepts, demonstrating how the legislation plays out in real life situations. It also includes up-to-date tables of benefits, allowances and rates and cross references to HMRC publications throughout.
Who should buy this book?
Tax practitioners, accountants, solicitors, company secretaries and payroll managers will all find the expert guidance contained within this handbook of considerable value.