3D Printing and Beyond: Intellectual Property and Regulation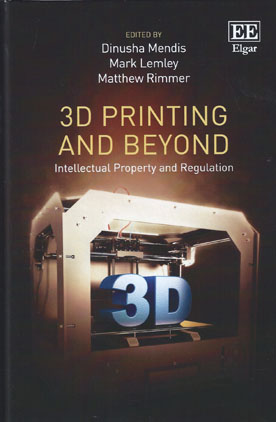 ISBN13: 9781786434043
Published: February 2019
Publisher: Edward Elgar Publishing Limited
Country of Publication: UK
Format: Hardback
Price: £115.00

This ground-breaking and timely contribution to the field of Intellectual Property law explores the implications of 3D Printing and Additive Manufacturing in three core jurisdictions: the UK, USA and Australia. Providing in-depth analysis of the current state of affairs, as well as outlining future issues and developments, 3D Printing and Beyond addresses both the challenges and opportunities created by 3D Printing.
Bringing together both academic and practical experts, the original contributions to this book consider the regulation of new, emerging and future technologies and their implications for the legal landscape. The book goes beyond 3D printing and its relationship with intellectual property to the realms of ethics, contracts, socio-legal aspects and economics.
Intellectual property academics will greatly benefit from reading this book, as it not only explores the myriad ways in which 3D printing has altered the horizon of IP law, but also offers ideas for areas of future research. Practitioners and policy makers will also benefit from the useful examples and cases used in this book.