Sports Law 2nd ed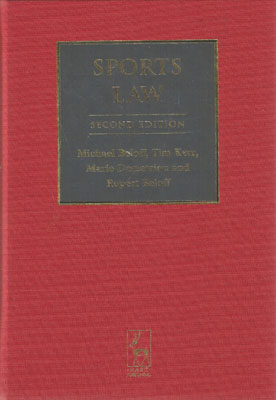 ISBN13: 9781841133676
Published: October 2012
Publisher: Hart Publishing
Country of Publication: UK
Format: Hardback
Price: £110.00

Sports law has been growing with increasing rapidity over the years since the first edition of this book published in 1999, regularly making headlines as well as leading to a developing body of law practised by specialist lawyers.
This revised work, by leading practitioners in the field, with a foreword by Lord Coe, provides a coherent framework for understanding the principles of sports law in this area, as well as a deep analysis of its key features. The subject is split into various areas of practice. First regulatory rules, which embrace the constitutional aspect of organised sport including the disciplinary procedures of the various sport governing organisations.
Special attention is paid to the impact of EU and Human Rights law as well as to the influential jurisprudence of the Court of Arbitration for Sport.
London 2012 provides an appropriate point at which to provide an overview of the current state of the law, as well as a look to the future. The target readership extends to solicitors and barristers, legal advisers to sports organisations and clubs, to corporations involved in marketing and sponsorship, and media companies, academics teaching sports law, and sports administrators.