Financial Crisis Management and Bank Resolution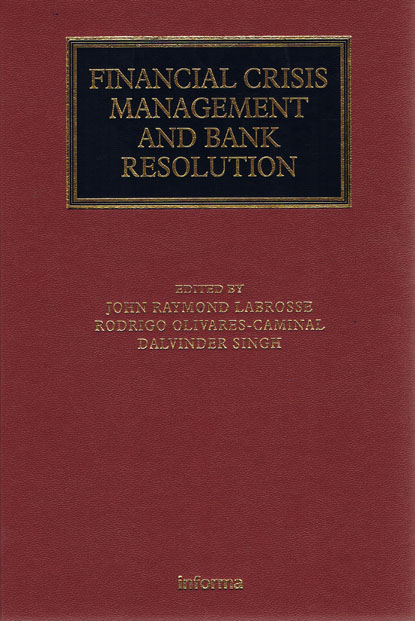 ISBN13: 9781843118381
Published: November 2009
Publisher: Informa Law from Routledge
Country of Publication: UK
Format: Hardcover
Price: £260.00

Despatched in 7 to 9 days.
Financial Crisis Management and Bank Resolution provides an analysis of the responses to the recent crisis that has beset the international financial markets. It seeks to undertake this task by taking a top down approach looking at the mechanisms to manage a financial crisis, to the practicalities of dealing with the resolution of a bank experiencing distress.
This work is an interdisciplinary analysis of the law and policy surrounding crisis management and bank resolution. It comprises contributions from a team of leading experts in the field that have been carefully selected from across the globe.
This edited collection will provide a new and important contribution to research in this area, at a crucial time in the debate around banking resolution and crisis management regimes. This scholarship will go some way to plug the gap in our knowledge and understanding of the law of bank resolution and restructuring, through the production of an innovative, international and interdisciplinary collection of work which links both the law and policy surrounding crisis management, and bank resolution and restructuring.
This book provides:
A review of the new legislation introduced in the UK on bank resolution
An analysis of the whole spectrum of bank resolution and restructuring from crisis
Management in the form of emergency liquidity support arrangements to the practicalities of dealing with organising and arranging the restructuring of a bank in distress
An analysis the idea of regulatory intervention in the context of a risk based model of regulation and prompt corrective action
A consideration of the rights of various stakeholders in particular shareholders, management and creditors – depositors
A review of the utility of the various techniques to deal with banks in distress, in particular Bridge Banks
Contributors:
Prof. Rosa M. Lastra; Prof. Geoffrey Wood; Prof. Charles Goodhart; Dr. Eva Hupkes; Vijay Tata; Adolfo Rouillon; Prof. Heidi M Schooner; Prof. Andrew Sheng; Prof G G Kaufman; Prof. R Bliss; Prof. Art Wilmarth