Law Essentials: Legal Method 2nd ed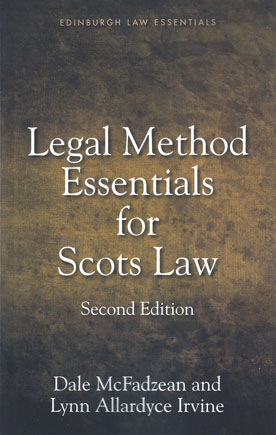 ISBN13: 9781845861674
Published: January 2017
Publisher: Edinburgh University Press
Country of Publication: Scotland
Format: Paperback
Price: £15.99

Scots law deals with many specific subject areas, such as criminal law, the law of contract and the law of delict, among others, and often differs in key areas of statute and practice. However, the methodology of studying the law is very much the same.
This revised and updated second edition is a fingertip guide to legal method, showing you how to go about your study of law. Get started with the use of legal information; find out what statutory interpretation and judicial precedent are; learn about finding and using case law and legislation on line; gain skills and confidence in searching and evaluating information including books, journals and libraries; and make your study international with a guide to sources from Europe and further afield.
Legal Method Essentials is the concise guide to the subject for students of law in Scotland.
Key Features:-
Describes the aspects of legal method specific to Scotland
Key skills explained for. law students
Handy tips for legal writing and research
Breaks down Scots Law into digestible parts
Shows the student how best to cite, reference and source material