Litigating Psychiatric Injury Claims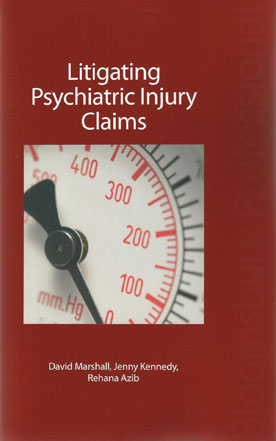 ISBN13: 9781845921132
Published: January 2012
Publisher: Bloomsbury Professional
Country of Publication: UK
Format: Paperback
Price: £95.00

The litigation of psychiatric injury claims is a rapidly expanding area of legal interest. Written by experts in the field, this text describes and analyses the present law and practice on the recovery of compensation for mental harm in English law.
It also includes comparative analysis of the approaches taken by other jurisdictions. It presents an analysis of the strengths and weaknesses of the law in terms of the medical profession's understanding of how psychiatric injury occurs.
Lawyers need to understand not only the legal rules and practice and the general direction in which the courts are going, but also the policy issues (some of which are rooted in medicine rather than law) which influence the changes. In its thorough analysis of the topic, possible future developments and proposals for new approaches to the area are considered alongside human rights aspects.
This is the only publication to be written from a UK perspective whilst drawing on comparative analysis of case law and development in countries outside the English jurisdiction.
This book was previously announced as Liability for Psychiatric Damage, by Michael Jones and Paula Case