Bills of Lading in Export Trade 3rd ed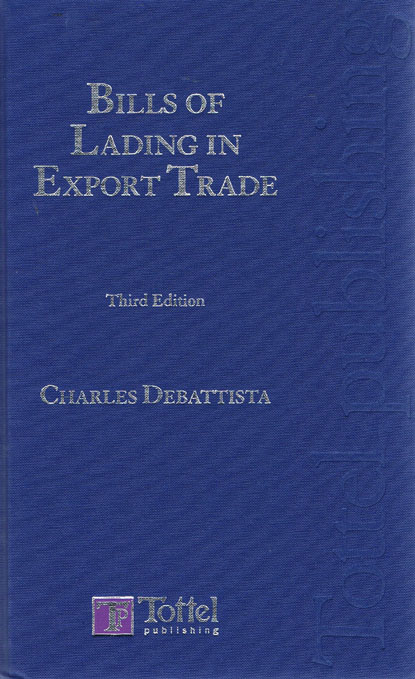 ISBN13: 9781845923150
Published: October 2008
Publisher: Bloomsbury Professional
Country of Publication: UK
Format: Hardback
Price: £275.00

This major textbook covers the commercial contracts relating to shipping, addressing the sale, finance and carriage contracts as a single commercial transaction by focusing on the Bill of Lading. It places the study of the Bill of Lading in the commercial context in which it is normally used and shows the practical importance of the relevant rules.
Restructured and extensively rewritten, the new edition incorporates significant developments in legislation, international conventions and contractual rules. These include the Carriage of Goods by Sea Act 1992, The Sale of Goods (Amendment) Acts 1994 and 1995, The Hamburg Rules, and the ICC's 1993 Revision of the Uniform Customs and Practice for Documentary Credits. It also includes new chapters on the shipping duties of sellers and buyers, on frustration, and on electronic trading.
The text is supported by appendices containing sample trade forms and by relevant statutory materials including a fully updated version of The Sale of Goods Act 1979. Well-organised and original, this title will be of great practical use to all practitioners wishing to take a fresh and new look at the law of shipment sales.
The new edition will focus less on the technological advances that may evolve via the internet and more on how real world principles apply to e-commerce and the emerging body of e-commerce case law. The new edition will cover all new regulations and legislation, including relevant EU directives, as well as new case law. New material in the new edition will include developments in online betting, electronic conveyancing and online dispute resolution as well as the changes introduced by the new Companies Act.
Important changes since the last edition:-
The UCP600 and the ensuing change of rules regulating the tender of shipping documents under letters of credit
The Starsin [2003] 1 Lloyd's Rep 571 on identity of the carrier and the link with letters of credit
The Rafaela S [2005] Lloyd's Rep 347 on what is a document of title
Scottish & Newcastle v Ghalanos [2008] UKHL11 on the nature of an fob contract
The Ythan [2006] 1 Lloyd's Rep 457 on the liability of a receiver of goods towards the carrier
Incoterms 2000 Rules of practice regarding international sales, revising the 1990 version
Uniform Customs and Practice for Documentary Credits (UCP600)