Stack v Dowden: Co-Ownership of Property by Unmarried Parties: A Special Bulletin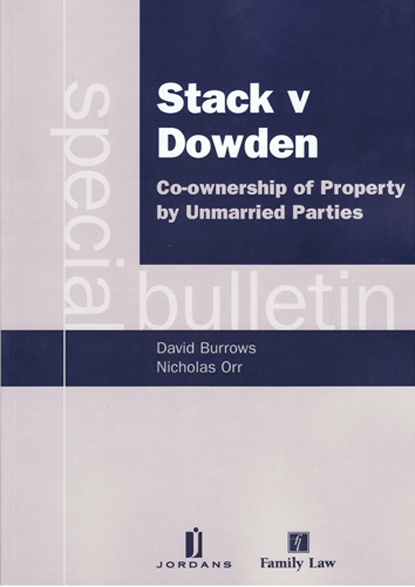 ISBN13: 9781846610783
Published: July 2007
Publisher: LexisNexis Butterworths
Country of Publication: UK
Format: Paperback
Price: Out of print

The recent decision of the House of Lords in Stack v Dowden has been heralded as a landmark ruling which establishes that, where a cohabiting couple own a property jointly, there is a presumption that they also own it in equal shares. The starting-point in a case of joint legal ownership is joint beneficial ownership and the evidential burden rests upon the person seeking to show that the parties intended their beneficial interests to be different from their legal interests.
The Special Bulletin examines the general equitable principles which apply to co-ownership of property by unmarried parties, before considering in detail the House of Lords ruling itself. This is followed by an analysis of the conveyancing matters which arise for consideration in such cases. The advice which is given to prospective purchasers of joint property can be critical and many of the problems which may emerge later, if the couple separate, or otherwise disagree about their beneficial entitlements, can be avoided if appropriate guidance is given before completion of the purchase.
Furthermore, if the beneficial interests are unclear, and the couple cannot reach agreement as to their common intention, it may be necessary to apply to the court for a declaration under Trusts of Land and Appointment of Trustees Act 1996, s.14, and on occasions it will be appropriate to make such an application alongside other family litigation. Thus the procedural issues which arise in such circumstances are fully considered.
In addition to commentary and practical guidance, the Special Bulletin includes the full text of the House of Lords ruling and relevant statutory material, which makes it essential reading for all practitioners advising unmarried couples