Challenging and Defending Local Authority Child Care Decisions: A Practical Guide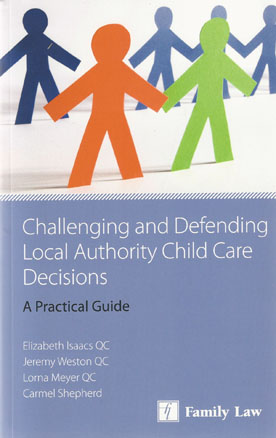 ISBN13: 9781846613173
Published: March 2013
Publisher: Family Law LexisNexis
Country of Publication: UK
Format: Paperback
Price: £68.99

This book is a practical guide for child care lawyers seeking to understand the legal framework, methods and procedures involved in making or resisting challenges to local authority decisions.
The changing public and policy context, as well as the development of the Administrative Court outside London, mean that this is a rapidly developing area of law for family lawyers.
In particular, the proposal of the Family Justice Review for the decreasing role of the family courts in scrutinising local authority care plans is likely to result in an increase in challenges to local authorities via internal complaints procedures, the Local Authority Ombudsman, and the Administrative Court.