Magistrates' Courts Criminal Practice 2014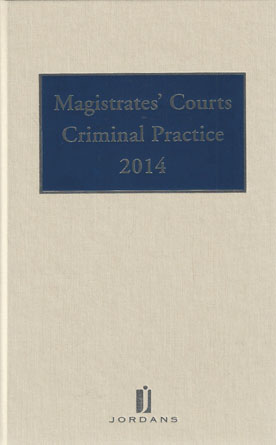 ISBN13: 9781846619113
Published: February 2014
Publisher: Jordan Publishing Ltd
Country of Publication: UK
Format: Hardback
Price: £199.00 + £20.50 VAT

Despatched in 4 to 6 days.
Magistrates' Courts Criminal Practice 2014 provides, in one volume, a complete reference work for advocates and officials in the magistrates' courts.
Designed to combine authority with practicality, this major work provides step-by-step advice on a vast array of court procedures following the normal progression of a case, from cautions and commencement of proceedings right through to appeals, including a thorough treatment of the law and practice of evidence as it relates to cases in the magistrates' courts.
Magistrates' Courts Criminal Practice 2014 includes:
Updated Procedural Guides
Legal advice and representation – amended in light of the Legal Aid Agency created by Part 1 LASPO
Indication of Plea, etc. – guidance on new 'Initial Details' (previously 'Advance Information')
Youth Court – extensive amendments to include additional notes on scenarios where youth and adult are jointly charged with offences
Evidence – significant new guidance on hearsay evidence and bad character
Enforcement – amended in the light of changes to reparation orders
Consolidated Statutory Materials and Latest Procedural Rules


Full text of the Criminal Procedure Rules 2013 and the new Criminal Procedure Directions, as well as updates to all statutory materials
Sentencing Guidance


Full text of Sentencing Council Guidelines and relevant parts of the Youth Court Bench Book (2013)
Case-law


All significant case-law developments, including: R v Tahery (hearsay evidence); R v Lodge, R v Dossett and R v Thompson (bad character); R (Purnell) (financial penalties); DPP v Fell (missing evidence); and R (Allan) v Croydon (anti-social behaviour orders)