Brighouse's Precedents of Wills 14th ed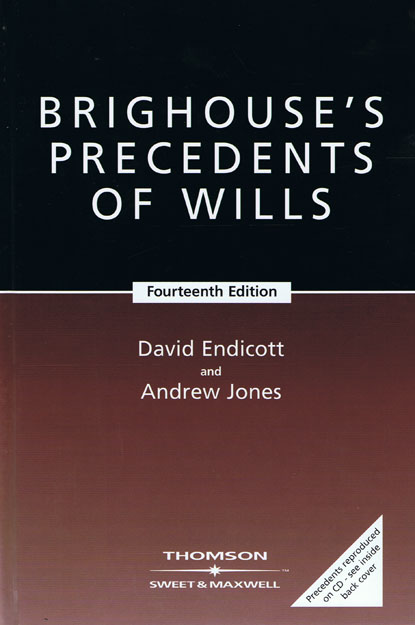 ISBN13: 9781847032249
Published: October 2007
Publisher: Sweet & Maxwell Ltd
Country of Publication: UK
Format: Hardback & CD-ROM
Price: £259.00 + £5.18 VAT

Despatched in 3 to 5 days.
Brighouse has been designed to help practitioners draft wills in clear succinct English. It supplies precedents covering the full range of situations met in daily practice helping practitioners create reliable sophisticated document. Both full precedent documents are supplied and a range sf olternathie and supplementary precedent clauses for inclusion and building up into a will document.
The work has been fully updated to reflect recent legislation, including the Civil Partnership Act 2004, the Gender Recognition Act 2004, the Mental Capacity Act 2005. and the Finance Act 2006. It also reflects further developments in respect of the pre-owned assets regime, stamp duty land tax, and other changes resulting from the trust modernisation project.
Supplies practical drafting advice alongside clear precedents
Provides both general and specific wills in Plain modern English
All the precedents can be easily adapted to suit various situations
Contains a section on trusts, and examines the powers of trustees and how they affect different types of wills
Includes a CD-ROM with all the precedents for rapid drafting and adaptation