Top Legal Employers in the United Kingdom 2007/8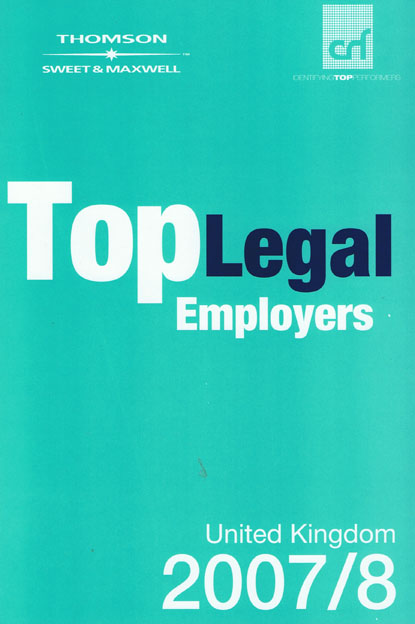 ISBN13: 9781847032515
Published: September 2007
Publisher: Sweet & Maxwell Ltd
Country of Publication: UK
Format: Paperback
Price: Out of print

The legal employment arena has never been more dynamic. Lawyers of all levels ranging from graduates just out of law school, to associates and partners with many years of experience under their belts, are on the lookout for new opportunities. In today's market, their choice of firm is influenced not only by the traditional considerations of salary and reputation, but also by the work ethic of the firm in question and the additional benefits on offer.
Traditionally, Magic Circle firms have always been regarded as providing the best service for clients, and excellent benefits and opportunities for employees. However, they now find themselves competing in beauty parades with smaller firms in and outside the city who can offer good quality advice at lower charge out rates, whilst claiming to offer a better work/life balance for their employees. An end to the debate is coming soon Sweet & Maxwell have joined forces with CRF to bring you the Top Legal Employers in the UK 2007/2008 online on the Legal Hub and as a print publication. Firms will be ranked and rated in 7 key aspects:-
Pay and Benefits
Promotion and Development
Training
People: company culture and style
Innovation
Diversity
Corporate Social Responsibility
Each law firm profile will contain background and contact information, notable facts, figures and achievements as well the key features of the programmes and schemes available to employees at each firm. The panel of experts will judge each law firm, on a percentage basis, against the key assessment criteria as measured by the journalist's reports and completed questionnaires.
Methodology Drawing on the resources of a top research and writing team, CRF will identify the firms that through creativity and innovation have managed to fashion a culture that embodies a pleasant and dynamic working environment in which the employee is happy and productive. The research process will include desk research, analysis and interviews with senior management and partners. The combination of qualitative research and journalistic assessment is designed to produce editorial that is both objective and informative.