Jowitt's Dictionary of English Law 3rd ed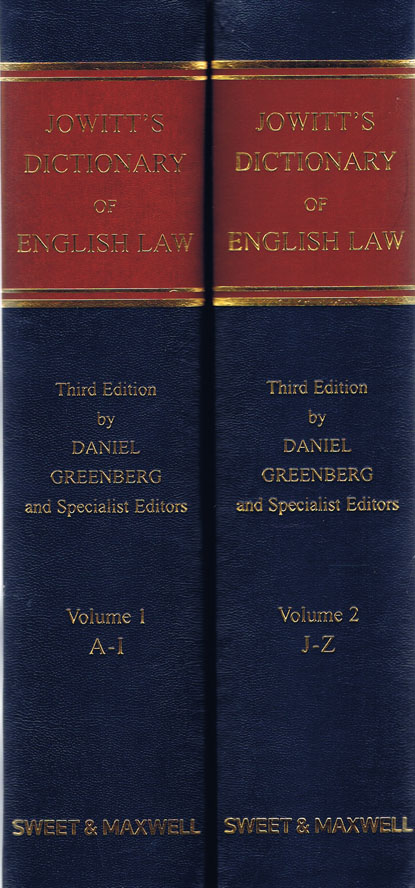 ISBN13: 9781847036261
Published: May 2010
Publisher: Sweet & Maxwell Ltd
Country of Publication: UK
Format: Hardcover, 2 Volumes
Price: Out of print

First published in 1959, Jowitt's Dictionary of English Law is the authority to be cited and relied upon in court when establishing the definition of each expression which forms part of the fabric of English law.
Thoroughly revised and updated since the last edition in 1977, this new edition covers English law from earliest times up to the present day, providing detailed explanations of legal terms as well as their historical context.
Jowitt's can be used as a guide to the use of appropriate terms and terminology when drafting legal documents or agreements, and to provide clarity on the intended meaning of a piece of legislation or an unclear contract clause. It provides the historical context of words and gives a distillation of legal concepts providing a first point of reference for research or for understanding an unfamiliar area of law.
Daniel Greenburg, the General Editor, is a Parliamentary draftsman at the Office of the Parliamentary Counsel and is also the editor of Stroud's Judicial Dictionary. He has been assisted by the contributions of some seventy specialist editors in the compiling of the third edition of Jowitt's.
Provides a concise, but comprehensive and authoritative, definition of each expression which forms part of the fabric of English law
Gives a distillation of legal concepts providing a first point of reference for research or for understanding an unfamiliar area of law
Covers European terms/law in so far as they form part of the law of England and Wales
Can be used to accurately draft, interpret and understand legal terminology and legal materials
Provides clarity on the meaning of words, for example as to what the terms of a contract might mean
Can be used as a guide when drafting legal documents or agreements as to the use of appropriate terms and terminology
Is a research tool in relation to historic and modern English legal terms
Provides the historical context of words
Complements and is cross-referenced to Stroud's Judicial Dictionary
Provides a unique authority as the only comprehensive dictionary of English Law