Shareholder Actions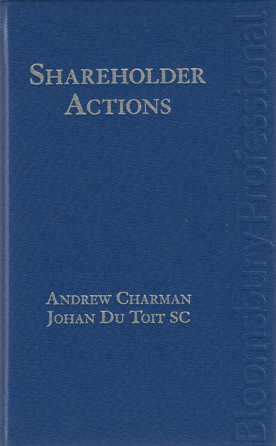 ISBN13: 9781847667106
Published: February 2013
Publisher: Bloomsbury Professional
Country of Publication: UK
Format: Hardback
Price: Out of print

Escalating pay packets for directors and the crisis in banking are forcing more shareholders to act. Shareholder Actions aims to analyse and simplify the process of bringing and defending shareholder actions in light of their recent escalation in number and importance.
This brand new title gives easy access to the intricacies of general company law principles, derivative actions, petitions based on unfairly prejudicial conduct and other personal actions in breach of the common law, equity, the Companies Act 2006 and other statutes.
Shareholder Actions provides a comprehensive guide to the possible actions that shareholders may be entitled to pursue, on whichever side of the dispute a reader might be involved. Particular attention is paid to those occasions where fiduciary duties owed by directors to shareholders are breached.
Uniquely, this book offers perspectives on comparable shareholder actions in Australia and Canada, highlighting how the approaches taken can differ.
Shareholder Actions covers the following topics and recent case law:
Derivative claims: Iesini v Westrip Holdings Ltd; Stainer v Lee
The 'no reflective loss' rule: Prudential Assurance Co Ltd v Newman Industries Ltd; Johnson v Gore Wood; Giles v Rhind
Unfairly prejudicial conduct: Re Sunrise Radio Ltd; Fulham Football Club (1987) Ltd v Richards; Maidment v Attwood; Sikorski v Sikorski
Inter-relationship of remedies: Re Annacott Holdings Ltd; Cream Holdings Ltd v Davenport; Re Abbington Hotel Ltd
The well-known rule in Foss v Harbottle is given due consideration and the roles and duties of directors and shareholders are contextualised. Shareholders' rights to remove directors and their rights pertaining to 'squeeze-outs' and 'sell-outs' are also explored.
Shareholder Actions unlocks this difficult area of the law with no-nonsense clarity, rendering it understandable to company law practitioners, company directors and shareholders in private and public companies alike.