Bundled Set: CCH The Red and Green Tax Books 2012-13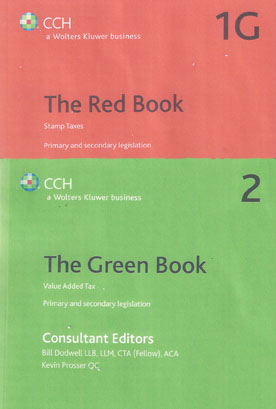 ISBN13: 9781847985156
Published: September 2012
Publisher: Croner-i
Country of Publication: UK
Format: Paperback, 9 Volumes
Price: Out of print

The Red Book 2012-13: 8 Volume Set
The Red Book 2012-13 covers the following taxes:-
Income Tax
Capital Gains Tax
Corporation Tax
National Insurance contributions
Tax Credits
Inheritance tax
Petroleum Revenue Tax
Stamp Taxes
The Green Book 2012-13: 1 Volume
A trusted source of UK VAT legislation and extra statutory material, CCH's Green Book will be updated to include all the latest changes.
The new edition will cover Budget 2012 as well as the subsequent Finance Act 2012. All relevant materials are selected, presented, indexed and annotated ensuring the information is easy to work with and quick to reference.
Key features for 2012-13 edition include:-
Recent changes to VAT legislation up to and including the Finance Act 2012
Statutes
Statutory instruments
HMRC directions
EU Material
Extra-statutory concessions
Statements of practice and HMRC briefs
Selected HMRC press releases, newsletters and leaflets