Family Law, Gender and the State: Text, Cases and Materials 3rd ed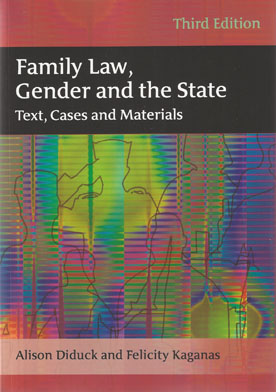 ISBN13: 9781849461498
Published: February 2012
Publisher: Hart Publishing
Country of Publication: UK
Format: Paperback
Price: £45.00

The third edition of this work on family law, comprising text, cases and materials, provides not only an explication of legal principle but also explores, primarily from a feminist perspective, some of the assumptions about, and constructions of, gender, sexual orientation, class and culture that underlie the law. It examines the ideology of the family and, in particular, the role of the law in contributing to and reproducing that ideology.
Structured around the themes of welfare, equality and family privacy, the book aims to offer the benefits of a textbook while also giving students a wide-ranging set of materials for classroom discussion. As well as providing a firm grounding in family law, the text sets the law in its social and historical context and encourages a critical approach by students to the subject.
It provides an ideal introduction to family law for undergraduates, but will be equally helpful for postgraduate students of family law for whom it provides a challenging selection of materials set within a theoretical framework rich in ideas and arguments.