Regulatory Transformations: Rethinking Economy-Society Interactions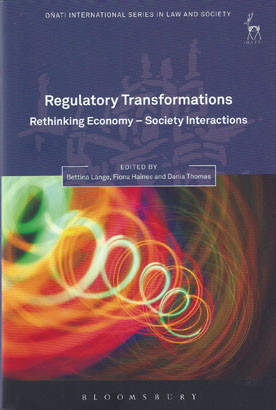 ISBN13: 9781849463447
Published: August 2015
Publisher: Hart Publishing
Country of Publication: UK
Format: Hardback
Price: £60.00

Despatched in 6 to 8 days.
The issue of whether and the extent to which transnational risk can be regulated through a social sphere goes to the heart of what John Ruggie has described as 'embedded liberalism': the story of how capitalist countries learned to reconcile the efficiency of markets with the values of social community that markets themselves require in order to survive and thrive.
This edited collection is located in wider debates about global capitalism and its regulation, a debate that is at the cutting edge of academic scholarship and contemporary public policy developments. The collection tackles the challenge of finding a way forward for regulation that does not accept the old division of regulation into economic and social fields, as if these two were conceptually and empirically distinct.
Instead this rich, multidisciplinary collection of essays engages with a critical central theme - namely the idea of regulating through a social sphere - which recognises the embeddedness of economic transactions within a social and political landscape.
A key strength of this book is its integration of three distinct areas of scholarship: Karl Polanyi's economic sociology, regulation studies and socio-legal studies of transnational risks. The collection is distinct in that it links the study of specific transnational risk regulatory regimes back to a social-theoretical discussion about economy-society interactions, informed by Polanyi's work. Critically, the concept of regulating through a social sphere is explored in a manner that ensures coherence of the work as a whole and offers new insights to readers. Each chapter addresses the way in which economics, as well as economic and social regulation, can never be understood separately from the social particularly in the transnational context.
The collection is relevant to a wide academic audience in the field of regulation studies, law, sociology, economics and political science.