The Causes of War Volume 1: 3000 BCE to 1000 CE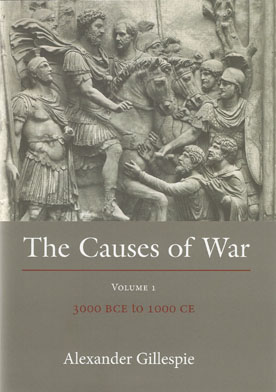 ISBN13: 9781849465007
Published: October 2013
Publisher: Hart Publishing
Country of Publication: UK
Format: Hardback
Price: £55.00

This is the first volume of a projected three volume series charting the causes of war from 3000 BCE to the present day.
Written by a leading international lawyer, and using as its principal materials the documentary history of international law (largely in the form of treaties and the negotiations which led up to them), these volumes seek to explain what the treaties can tell us about the causes of war.
In departing from the various theories put forward by historians, anthropologists and psychologists - for instance that warfare stems from disputes over private property, or that warfare is inherent in human behaviour - Gillespie offers a different taxonomy of the causes of war, which, he explains can be grouped under the headings of politics, religion, migration and empire-building.