The Queen's Counsel Official Lawyers Handbook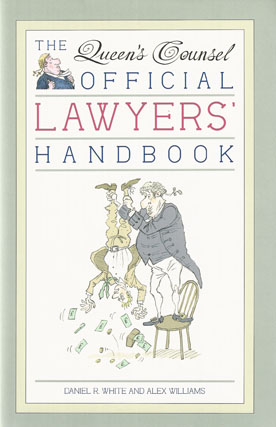 ISBN13: 9781849541701
Published: September 2011
Publisher: The Robson Press
Country of Publication: UK
Format: Hardback
Price: £14.99

The Queens Counsel Official Lawyers' Handbook tells you the secrets they don't cover at law school or in the professional journals.
The minutiae of lawyerly etiquette:-
Sucking up to sulky secretaries and making clapped-out photocopiers work
Important principle of legal writing - never use one word where a hundred will do
Sure-fire ways to end a legal career - explain to a client how the time billed was really spent
The big philosophical issues:-
Legal ethics (and other oxymorons)
How to handle romantic feelings towards a lawyer
Understanding what lawyers do - and how to stop them doing it to you
The paths to professional success:-
How to get into a top law firm - and stay there
Racking up the billable hours the easy way
Partnership - you can make if you know what to kiss...and whose
The
Queen's Counsel
is a cartoon satire on law and lawyers appearing on Thursdays in the law pages of The Times. Collecting together the very best of the cartoon strip with the sagest of lawyerly advice
The Queen's Counsel Official Lawyers Handbook
is the ultimate guide to surviving a legal career.